Getting Away while Social Distancing
When social distancing protocols began, my friend Melissa and I decided to label our families "quarantine buddies". After all, we live on the same street, our husbands work together, and our girls were in the same 1st grade classroom. Most importantly, we trust each other to maintain appropriate protections in order to keep each other healthy and safe. We were able to have lots of incredible summer adventures safely at home. But after a long summer of play dates and picnics, we needed a girl's weekend away. However, the biggest challenge in finding a safe place to escape is that Melissa has stage 4 breast cancer.
After weeks of research, Melissa sent me a link to Collective Vail, an incredible glamping resort less than 2.5 hours from our homes in Denver. It seemed like the perfect solution for getting away while staying safe. We booked our excursion for the 1st weekend in August and excitedly made plans for our perfect girl's weekend.
Accommodations
Upon arrival, we put on our masks (required in any public indoor space at the Collective) and checked in with the staff. A staff member in a UTV then gave us a ride up to our tent. The accommodations at Collective Vail are absolutely top notch. Melissa and I split a Journey Tent that features 2 sublimely comfortable twin beds with 1,000 thread count linens. Each Journey tent also has full electricity via a solar powered battery and a wood burning stove with tinder supplies. Our stay was unbelievably quiet and comfortable. Best of all, the nearest tent was roughly 30 feet away, making social distancing a breeze!
The Journey Tent includes shared bathroom facilities with full flush toilets, showers, and hot running water. There are 4 separate bathroom tents to accommodate the 10 Journey tents, so there was never an issue finding an open facility to use. For more private facilities, splurge for the Summit tent, which includes a private, in-suite bathroom with rain-style shower.
Three Peaks Lodge
Collective Vail offers a wide range of amenities to enhance your stay. Each tent includes complimentary cooked-to-order farm to ranch breakfast. Our favorite breakfast items are the avocado toast and the frittata, but the selections change daily. The breakfast menu also features a rotation of incredible baked goods from a local bakery. Breakfast is served at Three Peaks Lodge, just a short walk downhill from the Journey tents. The tables at Three Peaks Lodge are appropriately socially distant and have plenty of outdoor seating. If it ever got a little crowded inside, Melissa and I had plenty of space to spread out from the other guests.
Also offered at Three Peaks Lodge is a complimentary Sage Social Hour featuring selections from the winery on the ranch as well as cocktails and beer. Their signature cocktails are all outstanding with our favorite being the Collective Lemonade (including vodka, of course). At 8:00 pm every night the staff also builds a campfire just outside Three Peaks Lodge and offers complimentary artisanal s'mores.
Lunch & Dinner Options
You can also purchase lunch and dinner at Three Peaks Lodge (reservations recommended 48 hours in advance). The food is fresh and delicious. It is a welcome respite after a long day out exploring. We opted for salads and sandwiches for lunch. For dinner we ordered a "barbecue box", a selection of either meat or vegetarian dishes that are prepared on the grill by the guests.
We were a little nervous about having to grill ourselves, so we were thrilled to find out that everything had already been cooked to temperature. We simply had to heat it up at one of the several grills on the property. It could not be easier. Our box included a half chicken, 2 bison sausages, shrimp kabobs, and a variety of sides. It was more than enough food for the two of us and was absolutely delicious. We even saved some in our tent cooler to snack on later. When you're done grilling, simply leave the barbecue box and utensils by the grill and a staff member will come and pick it up for you. 
Amenities
There is certainly no shortage of incredible amenities at Collective Vail, but our favorite is the incredible concierge service. Simply text or call the concierge phone number to request more towels, more ice, or anything else you may need. A member of the Collective Vail staff will help in a flash. After our first walk up the hill from Three Peaks Lodge to our tent; it was apparent that it was simply not doable for Melissa. It's only about an 8 minute walk, but it's entirely uphill and at altitude, so it presents a bit of challenge. However, whenever we needed a ride, we simply texted the concierge number. Within 5 minutes, there was a staff member there to take us up the hill in the UTV to our tent. Talk about service!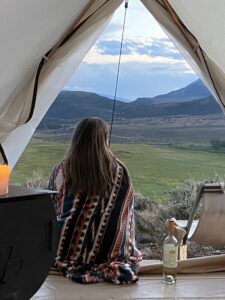 Every staff member we interacted with was unbelievably gracious, kind, and accommodating. We did let them know in advance about Melissa's health, but I think our experience with the staff would have been wonderful regardless. We also have to give a special shout out to Seth, one of the Experience Managers at Collective Vail. Seth was kind and courteous, making sure we had everything we needed. He was a wealth of information and was an absolute joy to get to know.
Activities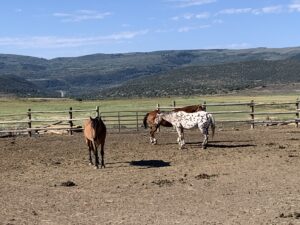 Collective Vail also offers some truly incredible activities. These include horseback riding, guided white water rafting, fly fishing excursions, zipline adventures, and many more! It is worth a reminder that you are in the wilderness and may encounter a critter or 2. It is not a bad idea to carefully store any food or snacks in your tent. We only encountered chipmunks and rabbits (and they were adorable), but keeping food in a tightly closed container will keep other animals at bay as well. You are in the wilderness, after all.
We have no doubt that you would adore your time at Collective Vail and a glamping adventure may be just what you need to have a little escape. For more information on our adventure, please don't hesitate to contact us today!