Disclaimer: We understand that travel is not feasible for everyone right now. We are fortunate to live in households that are not at high risk for COVID-19 complications. This trip was an opportunity for us to experience travel during COVID for ourselves. We have many clients planning to travel this year and next year, so we hope that any information or advice we can offer about our experiences will be valuable to them and to all of you. Please remember that if you decide to travel, you should research any restrictions for your destination. Also please consider if a self-quarantine will be required when you return home. With that in mind, read on and travel safely!
Hello Yellow Sky friends! Kristal here. For those of you who haven't heard… I'm a bit of a Disney nut (and a certified Disney travel specialist). I know there are those of you out there who think us "Disney people" are nuts, but hear me out! No other place in the world has been able to capture the unique magical quality that I have experienced at every single Walt Disney World visit. That being said, I was really curious to see if Disney would still be able to offer that same magical feeling with additional COVID-19 restrictions in place. My family and I recently had an opportunity to experience Walt Disney World for ourselves and I am so excited to share a little bit more about our experience with all of you. 
So first things first…
What's the same
?
Well, to be honest, quite a lot! Here are some of our favorites:
The Rides
Good news! All of your favorite Disney rides are still running. With the exception of those undergoing refurbishment, of course. There are some modifications to many of the rides to ensure that members of different parties are socially distanced, but overall you can expect your favorite rides to be fully operational and ready to roll.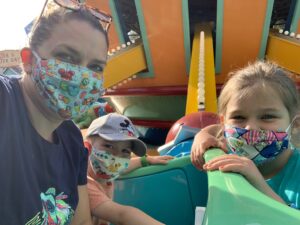 The Food
Ah yes, Disney food… one of my absolute favorite things about Disney. You'll be happy to know that you can still indulge in most, if not all, of your favorites Disney dishes. If you've never had a Dole Whip (pictured here), we definitely recommend that you start there.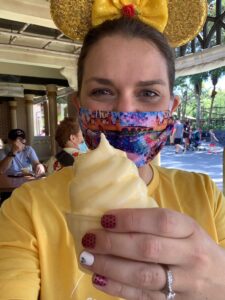 The Shopping
While not all shops are open, you can still find most of your favorite Disney souvenirs. Some of the most popular shops do have queues to get in to limit capacity, but we were pleasantly surprised at how quickly the lines moved. We were able to go home with some incredible Disney souvenirs in tow.
What's different?
Masks & Temperature Checks
Obviously you can expect some changes at Walt Disney World with COVID-19 protocols in place. One of the most notable is mask requirements and temperature checks. You can expect to have your temperature taken before entry to each park as well as Disney Springs. You are also required to wear a face covering at all times except when dining or swimming. You may remove your face covering while actively eating or drinking, but you should be stationary and maintain appropriate physical distancing.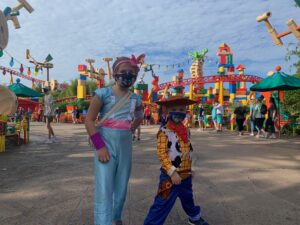 Queues
All of the queues have ground markings to help Guests better navigate common areas while practicing physical distancing. These ground markings are designed to keep 6 feet of space between groups while waiting in line. Keep in mind that this may make lines look longer than they actually are, so don't give up hope on long lines. They move quickly.
Character Meets
Due to social distancing guidelines, Disney has temporarily suspended character meetings. This is obviously a little disappointing, but not to fear, you can still see your favorite Disney characters in various ways throughout the parks! Some character dining experiences are still available (typically those with characters that wear a head covering, i.e. Mickey, Minnie, Goofy, Beast, etc.) and the parades are some of the best we've seen! Our favorites were found on Main Street at the Magic Kingdom. We were able to see most of the Disney Princesses and most of the classic Disney characters that we all know and love, all at a safe distance.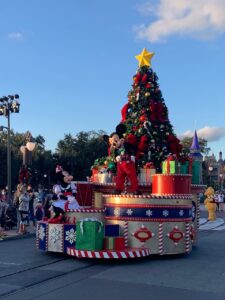 What did we like?
Transit
There were many things about visiting Disney during the pandemic that we liked even better than other visits we've had. The first is transportation. Typically when you're riding in transportation to and from the parks, you are packed in like sardines to get as many people on the bus/tram/monorail as possible. Not during COVID! We took Disney's Magical Express to and from the airport and there was at least one row between us and the next group. Masks were also required. The buses that took you from the resorts to the parks were also extremely limited in capacity. Each group was assigned seats on the bus as they boarded and there are plexiglass dividers between groups. No one is standing, no one is squished, and one again, masks are required. Even better, we never had to wait more than 10 minutes for transportation. There are plenty of buses running to accommodate the limited capacity.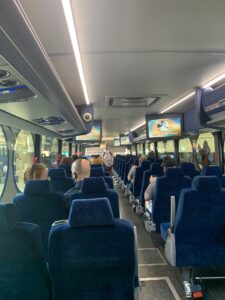 Hand-washing / Hand Sanitizer Stations
There was no doubt in my mind that Disney would have lots of stations to make sure hands were clean, but I was so pleased to find hand sanitizer and hand-washing stations pretty much everywhere you turn at the parks. Even better, we didn't find any that were out of sanitizer at any point during our trip. They were being serviced well and serviced often. My group used the stations before we got on rides, in line, and after we got off the rides. We used them before we ate and obviously washed well after visiting the restroom. It was easy to keep your hands clean while visiting the parks. 
The Crowds
We were told that Disney was limiting capacity to roughly 30% of their maximum capacity during non-COVID times. And let me tell you, that was pretty awesome. There were times, especially early morning, where the parks felt downright empty. We were able to get on rides pretty much immediately and find lots of open space to relax and grab a bite to eat. There were certainly times where it felt more crowded, but nothing compared to the normal crowds we were used to. It made us wish that Disney adhered to these capacity restrictions all the time 😉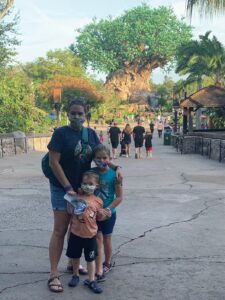 What did we miss?
FastPass+
With all of the park changes, there was bound to be a few things that we missed. The biggest was probably Fast Passes. For those unfamiliar, the Disney FastPass+ service allows you to reserve access to select attractions and entertainment at the resort in advance of your visit. As a result of the COVID-19 crisis, the FastPass+ service has been suspended to use additional queue space to control capacity at attractions and maintain physical distancing. Even though capacity at the parks has been limited, there were times that we waited up to 90 minutes to get on rides. For those of us used to using the FastPass+ service to forgo the long lines, this felt like quite a long wait. We found, though, that if you hit the most popular rides early in the morning or near the end of the day, you were able to avoid the longest wait times of the day. 
Grab-N-Go Dining
When we stay on Disney property like we did during this stay, we typically like to grab a quick breakfast at the resort restaurant on our way to the buses. This was a little more difficult during the pandemic. All orders at the resort restaurants needed to be placed on your phone before arriving at the restaurant. Although this required a little more preparation and planning, it was only a minor inconvenience when weighed against the overall positive experiences on this trip.
Truthfully, there is not much else we didn't like about traveling to Disney during COVID-19 precautions. There will likely not be another time that we can visit Disney when crowds are this small and the experience is this unique. Please don't hesitate to contact us with any and all questions about our Disney stay. Stay healthy and travel safely!