Disclaimer: We understand that travel is not feasible for everyone right now. We are fortunate to live in households that are not at high risk for COVID-19 complications. This trip was an opportunity for us to experience travel during COVID for ourselves. We have many clients planning to travel this year, so we hope that any information or advice we can offer about our experiences will be valuable to them and to all of you. Please remember that if you decide to travel, you should research any restrictions for your destination. Also please consider if a self-quarantine will be required when you return home. With that in mind, read on and travel safely!
When we found out in October 2019 that we had a travel conference scheduled in Las Vegas, we were ecstatic. What a perfect place to learn more about the travel industry and be able to unwind and have fun! Then COVID happened. Our conference was cancelled. And we were left with hotel reservations at Caesars Palace, plane tickets, and extreme disappointment. We talked about it for a long time, weighed our options, did an embarrassing amount of research, and ultimately decided to take the trip anyway. After all, we have clients traveling this year and it's important for us to give them (and all of you) a realistic picture of what to expect while traveling during a pandemic.
The biggest question we got after we returned home was: "What was there to do??" And the answer is, quite honestly – a lot! Sure, bars were still closed, there were no shows running, and masks were absolutely required in all public places, but we were able to have a lot of fun and rarely felt unsafe. So if you're planning an upcoming Las Vegas vacation, here are a few things that you can plan to do during your stay:
Walk The Strip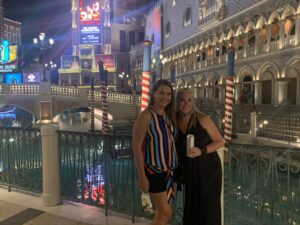 The Las Vegas Strip offers incredible hotels and beautiful scenery, so we spent a lot of time just walking! We had our masks on 99% of the time as masks are required in all public spaces. We only dropped them for the occasional photo when we were appropriately socially distanced. August in Vegas is obviously warm, but we got used to wearing our masks outdoors fairly quickly. Most everyone else we encountered walking The Strip was also masked and seemed very cognizant of keeping their distance from those that were not in their group.
Pool time

What is a Las Vegas summer without a little bit of pool time? We were able to rent a cabana at the Neptune Pool at Caesars Palace and had an incredible day enjoying the warm sun, crisp water, and ice cold drinks. Be sure to take advantage of pool time mid-week if you can! On the weekend, the crowds do get bigger and we found that by Saturday, there was a several hour-long wait to even get into the pool area. Please also note that unless you are completely in the water, masks are required, even if you're sitting on the edge of the pool or in your cabana. We simply left our masks and sandals on the edge of the pool, so that we could slip both on as soon as we got out of the water. 
We can't say enough about our Neptune Pool cabana experience either! Our cabana was equipped with a dedicated host (who acted as our server for food and drinks), two deluxe lounge chairs, misting cooling fans, and a flat-screen TV. Even better, this pool was a lot less busy than the main pool area, so we rarely found ourselves even within 20 ft of another guest. 
Gamble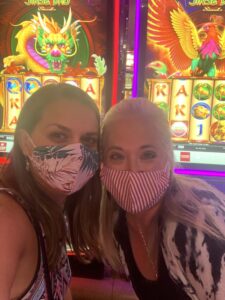 Gambling in Las Vegas looks a little bit different these days, but it is still totally doable with all of the extra precautions in place.
We found that most casinos had removed the seating at every other slot machine. This guaranteed at least one seat between you and the next gambler. If you are playing table games, masks are required and strictly enforced. Seating capacity at the tables has also been limited to a handful of players. If you were simply watching and didn't have any money on the cable, you needed to be 6 feet away from the table.
Fremont Street   

For those interested in experiencing a little bit of "old school" Vegas, check out the Fremont Street Experience in downtown Las Vegas. Fremont Street has some truly unique experiences like the SlotZilla zip line that sends you soaring down Fremont Street up to 11 stories above the street below. 
Or you can also simply marvel at Viva Vision, the world's largest video screen. Viva Vision measures 1,375 feet long, 90 feet wide and is suspended 90 feet above Fremont Street's renowned pedestrian mall. A word to the wise, Fremont Street is a popular destination among tourists, so it does tend to get busy, especially in the evening. Keep your mask on at all times and go earlier in the day to avoid the largest crowds.
Free Exhibits

Las Vegas isn't currently offering any of its infamous shows, but there are still plenty of free (and socially distanced) exhibits to check out. One of our favorites is The Fountains of Bellagio. It is a daily show that runs either every 15 minutes or every 30 minutes depending on day and time. The Fountains of Bellagio features more than a thousand fountains dancing in front of the hotel, enhanced by music and light. The display spans more than 1,000 feet with water soaring as high as 460 feet into the air. It is simply a must-see on every Las Vegas trip.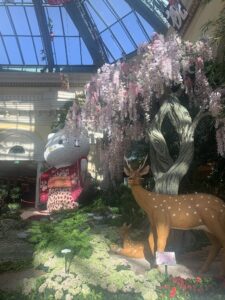 While you're at the Bellagio Hotel, be sure to also check the Bellagio Conservatory & Botanical Garden. Each season, the enormously talented horticulturalists and designers who make up the Bellagio Conservatory team transform this 14,000-square-foot floral playground into a showcase of the distinctive sights and colors of spring, summer, fall and winter — along with a special display for Chinese New Year. The current exhibit, Japan Journey: Magical Kansai, takes guests on a cultural voyage through the Land of the Rising Sun, paying homage to the customs, traditions and landmarks of Japan's Kansai region. It is truly an incredible site to behold. The team at the Bellagio Conservatory also works hard to make sure that guests are wearing their masks at all times, are appropriately socially distanced, and that capacity rules are strictly followed.
Eat Delicious Food
Restaurants are open in Vegas and believe us, we took full advantage. Some of favorites included Hash House A Go Go where we indulged in delicious bloody marys and savory breakfast dishes and Yard House for watching sports with reasonably priced drinks and delicious appetizers. You'll find that Las Vegas offers a huge variety of restaurants at varying price points, but all of them currently require you to wear a mask until you are seated at your table.
Get a Tattoo

If you're feeling really adventurous, tattoo shops are open in Las Vegas (masks required and no spectators allowed)! Kristal took the opportunity to get her very first tattoo at Revolt Tattoos. She had an absolutely incredible experience and will most certainly be back.
We can't guarantee that your experience will be the same, but we had a safe and fun-filled trip to Las Vegas. Our biggest takeaway and recommendation would be to travel mid-week if you can. Weekends still get busy in Vegas and we found ourselves spending a lot more time in our rooms on Friday and Saturday. Fortunately we're pretty good at making our own fun.
If you are interested in finding out more about our trip to Las Vegas or are looking to book your own trip, please don't hesitate to contact us today!